Required Training
Each Firefighter will complete 120 hours of both classroom and hands-on practical training to become certified as a Firefighter 1. This training prepares each firefighter to operate in what we call the "Hot Zone" or inside a burning structure. Over 90% of the members of the department have continued their training to reach Firefighter II level certification. Apparatus Drivers and Operators must also complete stringent driver training before they get behind the wheel of a department vehicle. Again, all of this training comes with a significant amount of dedication by each firefighter sacrificing many hours of their free time to improve their present skills and learn new ones. The department also has a number of individuals with advanced training in leadership as Fire Officers and Fire Instructors.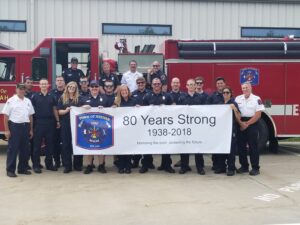 Continued Training
In addition to responding to calls for service, our staff meets almost every Wednesday evening throughout the year, working to maintain their firefighting and emergency medical skills. These EMS skills cover a wide variety of subjects ranging from treating serious trauma and fractures to a wide variety of illnesses, seizures, strokes, heart attacks, and cardiac arrest. Keeping these skills current is required under State of Wisconsin statutes and is critical to providing life-saving care as quickly as possible. The firefighters also spend time weekly, inspecting, and testing both their firefighting and EMS equipment to be sure that everything is ready to go at a moment's notice.
Several Certified Emergency Services Instructors are members of the department and use their experience and training to foster safe and efficient operations on the fireground or at accident scenes. Each December, the entire department conducts ice rescue training and practices in the icy water to be sure their shore-based ice rescue skills are sharp when ice starts to form on Lake Winnebago, the CB quarry, and on the various retention ponds throughout the Town.